Deconstruction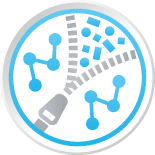 The BOTTLETM Deconstruction Task aims to develop selective and scalable catalytic technologies to break down today's plastics to processable intermediates for use in the Upcycling and Redesign tasks.
Our primary focus areas include the following; please contact us for more information about other activities in this task.
Thermal Catalysis
We are exploring chemistries that will enable selective and simultaneous deconstruction of mixed plastics at lower severity than common thermal depolymerization methods (i.e., pyrolysis and gasification). Toward enabling selective C-C bond cleavage, we are investing cleavage via alkane hydrogenolysis, the olefin-intermediate process, and other mild chemo-catalytic approaches. This work involves design of both homogeneous and heterogeneous catalyst systems.
Electro- and Photocatalysis
BOTTLE researchers are exploring both novel electrochemical and photocatalytic methods for C-C bond cleavage and deconstruction of mixed plastics at room temperature and low pressures. The scaled-up feasibility of these potential methods are being examined in collaboration with the Analysis Task.
Biocatalysis
BOTTLE biocatalysis efforts are focused on integrated, realistic processes for the use of enzymes for recycling C-O and C-N-linked polymers, including textiles, fibers, and packaging. We employ comprehensive biophysical, kinetic, and structural analyses of plastics-degrading enzymes and conduct performance testing on realistic substrates.
The Deconstruction Task employs substrates composed of both model and pristine plastics, as well as realistic post-consumer plastic waste, to determine the feasibility of the methods we are developing. Exemplary substrates of interest are listed below. This list is not exhaustive, so please contact us with questions about specific substrates of interest:
Mixed and non-recyclable plastics from materials recovery facilities and ocean plastics

Textiles, fibers, and foams including polyesters, polyamides, and polyurethanes

Multi-layer food and beverage packaging

Polyvinyl chloride-rich waste

Epoxy resins used in fiber-reinforced composites.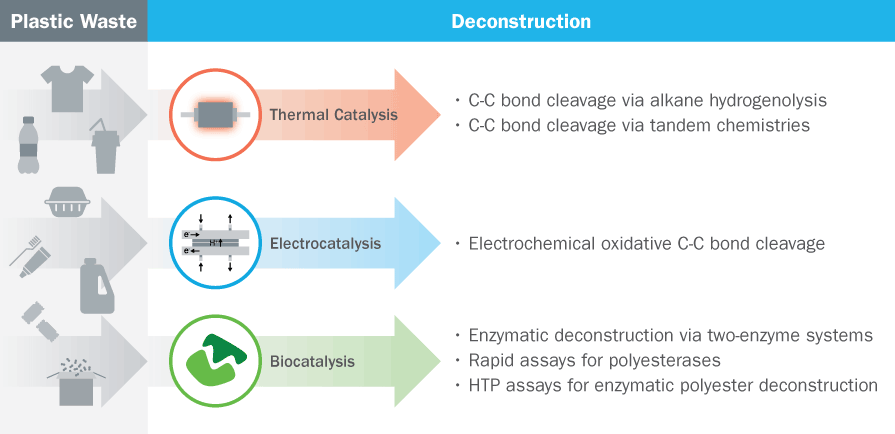 Recent Publications
Conversion of Polyolefin Waste to Liquid Alkanes with Ru-Based Catalysts under Mild Conditions
Characterization and Engineering of a Two-Enzyme System for Plastics Depolymerization
Characterization and Engineering of a Plastic-Degrading Aromatic Polyesterase
Tandem Heterogeneous Catalysis for Polyethylene Depolymerization via an Olefin-Intermediate Process
Learn how to join the BOTTLE consortium and contact us to discover how best to work with us.